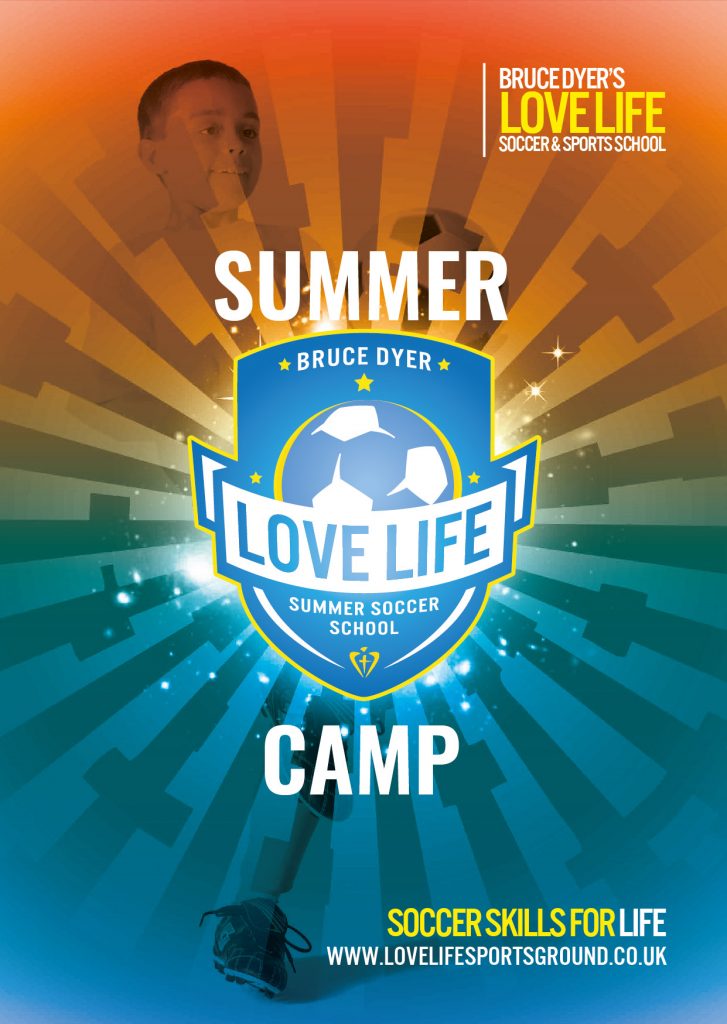 Bruce Dyer's Love Life Summer Camp Training Program offers an extra opportunity for committed players, both boys and girls, ages 7 – 12 to participate in an intense progressive training program. This program has been designed to be enjoyable, educational and challenging, ensuring your child develops at the right pace.
Our mission is to provide leading sports coaching for dedicated, skilled and enthusiastic young players that will develop the "Whole" Person/athlete in an age appropriate context.
Due to the current government / FA  guide lines our camp will be run different and all government and FA guide lines will be followed during the coaching sessions.
AUGUST  CAMP DETAILS
The camp will will be held Monday  – Thursday (9am-1:30pm) on the following dates:
August 3rd – 6th 2020, 9am-1:30pm
August 10th – 13th 2020, 9am-1:30pm
August 17th – 20th 2020, 9am-1:30pm
August 24th – 27th 2020, 9am-1:30pm
Ages:  7 – 12
Address: Love Life Sports Ground, Brierley rd, Grimethorpe, S72 7E8
PRICES:
4 DAY CAMP £40 (There will be an admin fee added to these prices when paying via Paypal:)
Bank Transfers:
Love Life UK
Sort Code 30-10-47
Acc 00195158
Ref: Child Last / Age Group (example : DYER8 / SMITH12)
(Please do not post cheques or cash) No CHEQUES  or  CASH PAYMENTS  
Pay Pal online / bank transfer bookings only.
Registration Information Please email or text with the following details:
Mobile : 07515884082
Name (Child's Name):
Age:
Emergency Contact:
Does your child  have any medical conditions?
Do you give permission for images of your child taking part in our summer camp? Pictures will be used for marketing and promotional purposes.
BOOK VIA PAYPAL
To book please use the Paypal option below:
---
---
THE STAFF TEAM
The Bruce Dyer Love Life Soccer & Sports Academy team are expert coaches. They are all qualified and hold the necessary certificates in :
F.A. COACHING
FIRST AID
DBS CHECKED
LAWS OF THE GAME
CHILD PROTECTION
This ensures the quality of coaching delivered to each and every player, and gives you the confidence to know that your child has a safe and positive experience regardless of his or her athletic abilities.
Our motto is IT'S MORE THAN SPORTS IT'S SKILLS FOR LIFE . Our heart and passion is to help young people on their journey become a professional sportsperson but also teach valuable life skills that are relevant to becoming a professional sportsperson and life in general.
THE FA GUIDELINES (COVID-19)
All equipment will cleaned after every session.
All staff, volunteers and kids must undergo a self-assessment for any Covid-19- symptoms . No one should leave home to participate in football if they, or someone they live with, has any of the following:
• A high temperature (above 37.8°C);
• A new, continuous cough;
• A loss of, or change to, their sense of smell or taste.
• Your child must arrive changed and ready to exercise.
• Ensure your child takes their own water bottle and their own hand sanitiser, both clearly marked with their name. They must not share these with anyone else. Please ensure your child/children know how to maintain good hygiene and hand washing .
Chewing gum is strictly forbidden at our camp .
Our staff will check that each participant completed the self-screen check list before attending and if so, if the self-screen checks were negative for all participants. Ensuring everyone understands the importance of this simple process being completed before travelling is essential to avoid potential transmission.
If a participant says they forgot to self-check before their arrival, then our staff member coach will ask them the health check questions before they join the camp session at the facility. If they answer 'yes' to one or more of the questions, participants must not take part in the activity and must leave the premises.
For More Info Text 07515884082 or Email: lovelifesportsground@hotmail.com